Makers of Snook's Sweet Potato Dog Chews and Chips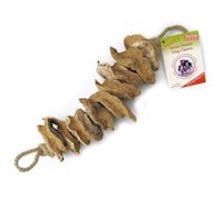 Pawsitively Native is proud to carry Snook's in Gunnison, Colorado. My husband and I have had an overwhelming love for dogs since childhood. We have three dogs of our own, and are always very conscious of what we feed them. We noticed that our dogs were starting to develop tarter and were very concerned about the dangers of rawhides and bones. That's when we set out to find a way to make a digestible alternative that was not made from animal bones.
After reading about the benefits of sweet potatoes and knowing how much our dogs enjoyed them it seemed like the perfect solution. We prepared some for our dogs and were amazed at how much buildup it removed from their teeth. We gave some to our friends to try and got the same results with their dogs. Now here we are making Snook's Sweet Potato Dog Chews™ for our dogs and yours, and have expanded our love and concern for animals into Snook's Natural Care Products and Snook's Herbal & Nutritional Supplements.
Dog Treats
Snook's Sweet Potato Chews
Snook's Sweet Potato Chips
Snook's Sweet Potato Biscuits
Snook's Sweet Potato Steak Fries
Sweet Potato Treat Testimonials
Come visit our pet supply store in the Gunnison, CO specializing in quality food, treats, and supplies for cats and dogs.