HEALTHY GUT...HAPPY PET. FRESH, SMART SNACKS & SUPPLEMENTS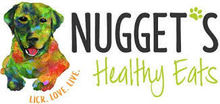 Pawsitively Native is proud to carry Nugget's Brands, Inc. in Gunnison, Colorado. After decades of preparing fresh, healthy meals & snacks for our own dogs and experiencing them thriving as a result, we've dismissed the notion of "people food" versus "dog food." Food is food and it's either nutritious or not! And we believe what our pets eat should never be inferior – this is true for ingredients, as well as how the food is prepared.
Come visit our pet supply store in the Gunnison, CO specializing in quality food, treats, and supplies for cats and dogs.